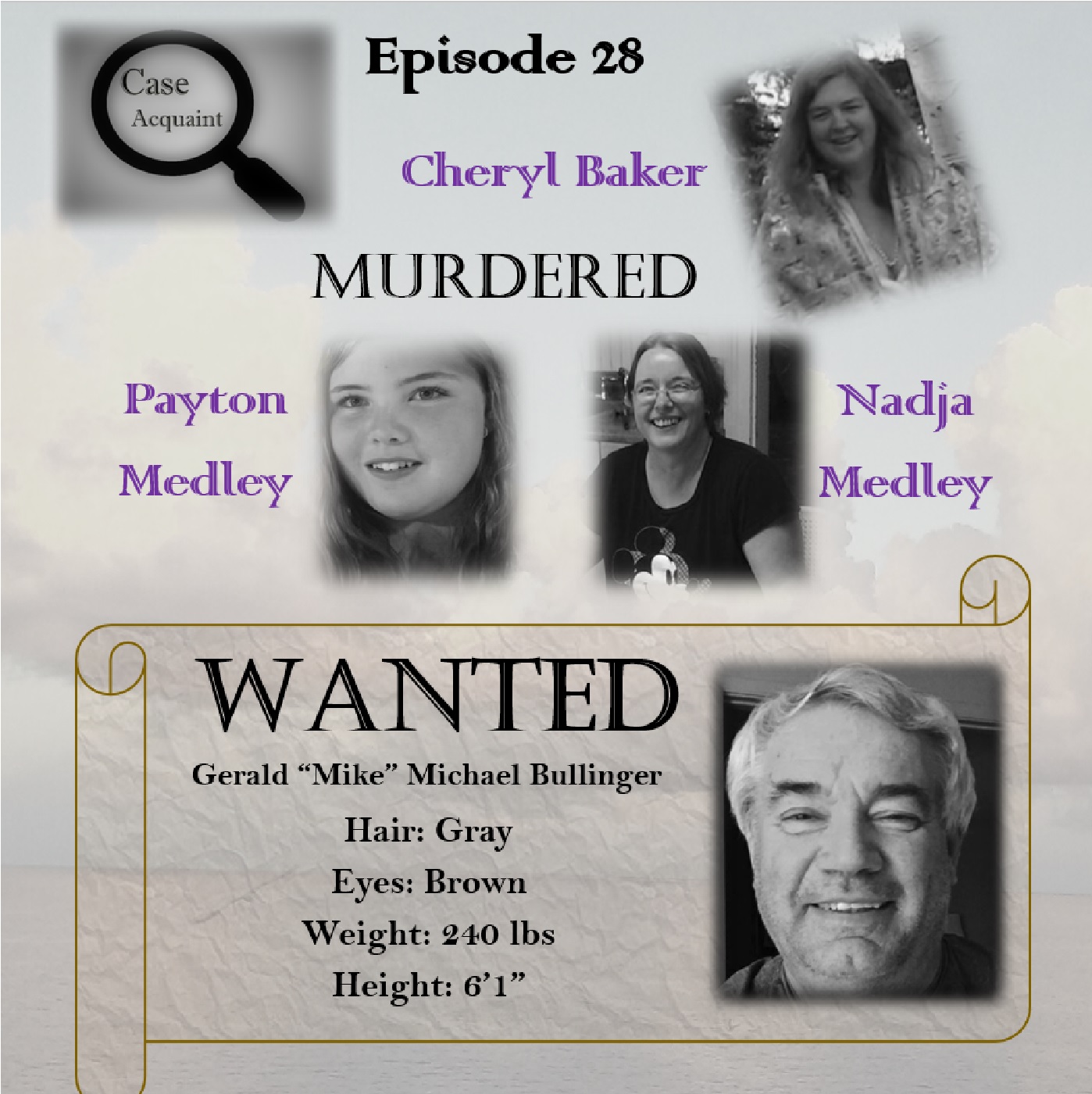 Episode 28
The Murders
of
Cheryl Baker, Nadja Medley, and Payton Medley
Mike Bullinger is wanted for the murders of Cheryl Baker, Nadja Medley, and Nadja's young daughter, Payton Medley in early June of 2017, He had a two week long head start before the authorities began searching for him.
Bullinger is 61 years old, and when he went on the run, he had gray hair, brown eyes, was six ft one, and about 240 lbs. He likes motorcycles, planes, hunting, guns, horses, and the outdoors. He also likes to lie and cheat. He is a master manipulator, and somewhat of a chameleon, so check out his picture and keep an eye out for him.
There are rewards being offered, and we will place links, images, and other items in our blog entry at our website, caseacquaint.com.
Please share this story so we can keep it in the public consciousness, and hopefully someone will see him skulking around some small mountain town or camping in a remote area. If you see him, contact the Canyon County Sheriff's Office at 208-454-7531
Find everything you need at caseacquaint.com
or
Apple Podcasts in the itunes store:
https://itunes.apple.com/us/podcast/case-acquaint-podcast/id1331093749?mt=2
YOUTUBE:
https://www.youtube.com/channel/UCjWIf9lVJiCp8OSlpPel5Dg/videos
Radio Public:   https://play.radiopublic.com/case-acquaint-podcast-WDprK7
Follow us on
IG: https://www.instagram.com/caseacquaint/
Twitter: https://twitter.com/CaseAcquaint
FB: https://www.facebook.com/caseacquaintpodcast/
Support the podcast
Patreon: https://www.patreon.com/caseacquaint?alert=2
Music: Modum    by: Kai Engel    Album: Caeli
Link to more music by Kai Engel